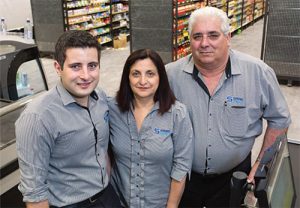 The Spano Group was formed in 1990 by Tony and Natalie Spano. It has since grown from a single convenience store to a multifaceted organisation comprising four SUPA IGAs, three IGAs and a Cellarbrations liquor store in south-east Queensland. It also has a fresh-produce warehouse at Rocklea Markets in Brisbane.
The group is now headed by Tony and Natalie's son, Frank. On top of his role in the family business, Mr Frank Spano is active in the broader IGA community and is currently the Queensland and Northern NSW Retail Chair for IGA Supermarkets.
How did you get started in retail?
I started in retail after my family bought its first Four Square supermarket on the Isle of Capri, on the Gold Coast. Before moving, Mum worked in a dress shop and Dad was a car salesman. They had a farming background, but believed farming was going to be tough, so they made the move to Queensland in 1990 to get out of that lifestyle. I worked behind checkouts during my school holidays for four years until I left high school, and then started working for them full time while I was studying a Bachelor of Business.
At the time, I wanted to be a lawyer. I started my law degree, but I deferred it because I enjoyed the thrills of retail.
You've risen quickly within industry ranks – CEO of the family business by the age of 30 and IGA Queensland and Northern NSW Retail Chair. How did you achieve this at such a young age?
A lot of dedication. I hired a business coach about five years ago, who has helped me develop my skills from a personal perspective – not to be the arrogant kid some people used to perceive, but to come to a meeting and represent my business and my state in a professional manner.
I always make sure I learn the facts and figures before I give an opinion. I think that's earned a lot of respect in the industry – the fact that I can hold a conversation, be factual about it and less emotional. That's enabled me to work from a strong background in merchandise and marketing to progress through the ranks.
Tell me about Spano's stores. What sets them apart?
We're in the middle of our three-year strategic reset. We're diversifying the offer to be more about experiences, so we're looking at unique points of difference, local sourcing and re-engaging the community.
The plan is to create points of difference where the majors don't have them so we can grow our business without racing to the bottom by discounting everything. We also want to give consumers an offer they can't buy elsewhere in our townships, because we do have stores in regional town centres.
We have a considerable refurbishment program for the next two years that will see us upgrade the three regional stores we own – Spano's SUPA IGAs at Gatton, Stanthorpe and Warwick, all in Queensland.
We have a powerful business-intelligence system we use to get insights from our consumers using the loyalty program we operate. We also have a heap of backend systems that allow us to understand our consumers – what they're chasing, and any trends, so we can better cater for them in the long run and improve availability on shelf, which is a big thing for customers.
How does Spano's fruit- and-veg facility at Rocklea benefit your fresh offer?
It enables us to buy directly from farms and improve the supply chain to reduce the lead times between suppliers to the store, so customers can have better-quality products. We judge quality by how long our customers get to have them in their fridges at home. If they last a couple of days or a week in the fridge, it gives customers the trust and confidence that we've got good-quality fresh products for them.
What are the biggest challenges affecting independent retailers in Queensland right now?
The biggest challenge is the deregulation of trading hours that took place in this state just over 12 months ago. That's seen a shift away from independent retailers – not just supermarkets, but also local butcher shops and bakers – to the majors.
The other big issue is one that's affecting retailers nationally: the deflation of value in the marketplace. Intense competition has pushed down prices and now everyone wants to buy at half price. That makes operating very tough because power costs and wages are rising.
To overcome both these issues, we independents have really got to change how we compete. We need to go to market with an experience – that means having better service than the majors and celebrating local sourcing. Independents have the unique ability to source from local vendors around our own communities and to assist in keeping jobs and profits within the state.
We need to find alternative ways of growing our sales and getting new customers. Independents can learn from overseas trends because that's where the global marketplace is headed: more fresh ready-to-eat meals catering for time-poor consumers in a one- stop shop where you can get your fresh meat and pre-made salads.
Another challenge is staffing. As we introduce more innovations to our supermarkets, we need to find quality personnel who are capable of rolling with the changes.
What have you learned during your retail career that you wish you knew when you began?
How much I'd use my maths skills. When I started in retail, you basically just put product on shelf and you'd get good growth. Now the business is more analytical. It's about understanding your customers and what they want. I wish I were more in front of the curve on that at the moment.
Where do you hope to be in 10 years' time?
I hope to continue being a leader for independent retail in Australia as the Spano Group grows and diversifies, so we're not just wholly reliant on supermarkets. We did go into liquor three years ago, so hopefully we'll see some liquor expansion in the coming years.
At the Spano Group, we'll continue to reinvest in our people as we aim to double our business in the next five years. We'll innovate and change to ensure we can be at the forefront of technology and satisfy consumers' needs.