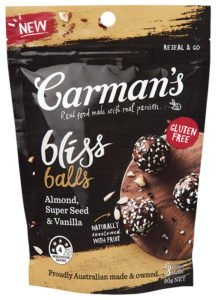 A new product called Carman's Bliss Balls comes in three variants: Almond, Super Seed & Vanilla; Apple, Cashew & Coconut; and Orange, Cacao & Poppy Seed.
The balls are kept fresh in a convenient resealable ziplock pouch, contain no refined sugar and are gluten free. Each serve is 100 calories or fewer.
"I think they will be an enormous success based on the consumer demand for healthy snacks that use natural ingredients and no refined sugar," Carman's Founder Carolyn Creswell said. "They're just as good as the ones you would make in your kitchen at home – if not better!"
Carman's Bliss Balls retail at $4.49 an 80g (10 ball) pack.