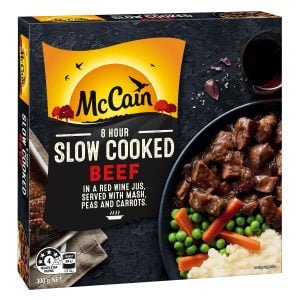 McCain Foods is launching a new range of Slow Cooked Meals to bring "convenience to comforting slow cooked meats and root vegetables".
The slow cooked meal is back in fashion. But McCain's researchers have discovered that more Australians want to enjoy a faster slow cooked meal – "a meal that delivers flavour and has a 'home cooked' feel" – without having to wait for hours.
McCain Foods Meals and Pizza Marketing Manager Chris Martin says its Slow Cooked Meals range aims to meet consumer demand "for a hearty and tender, ready-to-eat meal".
"There's nothing quite as satisfying on a cold winter's night than digging in to an eight-hour slow cooked beef or a 10-hour pulled pork with all the trimmings," he said.
"For many of us, slow cooking is a luxury only enjoyed in restaurants, or only on weekends, because we just don't have the time and resources to cook them during a busy week.
"At McCain, we know that good things take time. With our Slow Cooked Meals range, we've taken the hassle and long cooking hours from our customers, cooking our meats 'low and slow' until perfectly tender and packed with flavour. Classic sauces coupled with wholesome vegetable sides makes for a convenient and satisfying meal."
Having drawn inspiration from traditional slow cooked favourites, says McCain, consumers have three options to choose from:
Seven-hour Slow Cooked Lamb in a rosemary gravy served with mash, green beans and baby carrots.
Eight-hour Slow Cooked Beef in a red wine jus, served with mash, peas and carrots.
Ten-hour Slow Cooked Pork in an apple sauce, served with root vegetables and beans.
The McCain Slow Cooked Meals range is available in the freezer aisle.