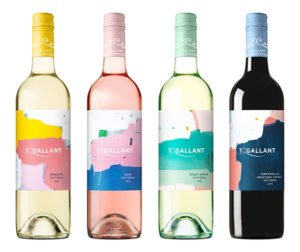 Bottles of T'Gallant table wines featuring abstract art created by Melbourne artist Sarah Kelk come in four varieties: Pinot Grigio, Rosé, Moscato and the red blend Tempranillo Graciano Shiraz.
The wines are marketed towards consumers aged 25 to 35 years. T'Gallant Marketing Manager Marc Heine says these consumers drink wine mostly during casual get-togethers and celebrations with friends.
"They're very social beings who like to be in touch with the latest restaurants and foodie trends," he said. "They're looking for quality beverages that are approachable and allow them to express their individuality and sense of style to their friends, and we believe we have the perfect offering for them in our new range of Victorian wines."
The new wines made their public debut at the Melbourne Food and Wine Festival alongside the T'Gallant sparkling range, released in December last year. T'Gallant hosted a pop-up bar as part of the Crown Live Pizza Festival on the city's Crown Riverwalk, merging pizza from Crown Melbourne's Gradi restaurant with live music, masterclasses and entertainment.