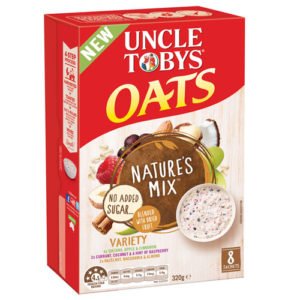 In response to consumer sugar concerns, the team behind Uncle Tobys has launched Nature's Mix, a no-added-sugar range of oat sachets promoted as being naturally sweetened with dried fruit and "healthy" nuts.
The brand says its research found that, when shopping for themselves or their families, consumers prioritise nutritional sugar claims, with 78 per cent of respondents in Australia saying they are looking for no-added, low- or reduced-sugar products (Kitchen Conversations research, September 2016).
Uncle Tobys says Nature's Mix is designed for those who want to enjoy the sweetness without the added sugar.
Nature's Mix is promoted as a quick breakfast option that can be ready in just 90 seconds. It has a Health Star Rating of 4.5.
"With 100 per cent Australian wholegrain oats and no artificial colours, flavours or sweeteners, each 40g sachet contributes more than 50 per cent of the 48g wholegrain daily target [Grains & Legumes Nutrition Council Daily Target Intake recommendation]," Uncle Tobys said.
Nature's Mix is available in a Sultana, Apple and Cinnamon (eight-pack) variety and a three-flavour variety pack (eight-pack) featuring the following flavours:
Sultana, Apple and Cinnamon.
Currant, Coconut and a Hint of Raspberry.
Hazelnut, Macadamia and Almond.
Nestlé Regional Nutrition Manager Cereal Anne-Marie Mackintosh says the new Uncle Tobys Nature's Mix No Added Sugar oat sachets are "part of our commitment to providing more breakfast choices for Australians".
"Nature's Mix is designed specifically for oat lovers, whom we know want a delicious breakfast option with no added sugar," she said.
Uncle Tobys Oats Nature's Mix (RRP: $5.49 for eight sachets) is now available at Coles supermarkets and all independent retailers (IGA).