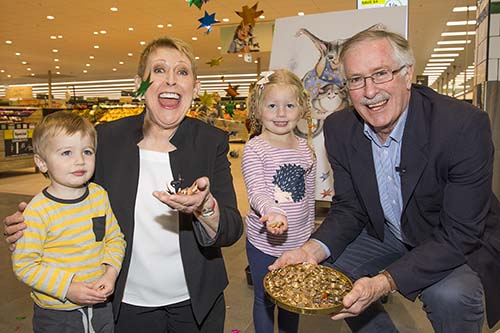 Woolworths has released Royal Australian Mint limited-edition $2 coins into its stores' tills this week leading up to Children's Book Council of Australia Children's Book Week, featuring designs from the Australian children's book Possum Magic.

The three $2-coin designs struck by the mint feature illustrations of the main character, Hush, from the popular story. The designs stay true to the original illustrations, which also include colourful 'magic-dust' rings.
The mint is also releasing a limited-edition Possum Magic coin collection that will be available exclusively at Woolworths and the mint while stocks last. The album features all three $2-coin designs, four different $1-coin designs and a unique one-cent coin specially designed by Possum Magic illustrator Julie Vivas for this collection.
"No one can imagine the level of my excitement at the real magic that's happened, thanks to the Royal Australian Mint and Woolworths," Possum Magic author Mem Fox said. "Nothing could be more magical than turning Possum Magic from a book into a collection of coins. I'm dizzy with amazement and honestly overcome with gratitude that my beloved story is being immortalised in this way."
Woolworths Director of Marketing Andrew Hicks said: "The multi-generational appeal of this number-one best-selling children's book, along with the story's inclusion of truly Australian food, connects with families in a unique way. We hope the release of the coin collection provides more opportunities for grandparents, parents and children alike to engage with this iconic story and perhaps even try recreating the famous dishes contained in the book."
The first $2 design was released in Woolworths on Tuesday (August 15), with the second design released from next Tuesday (August 22), and the third following on Tuesday August 29.